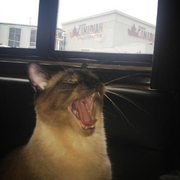 Mr. Peep$ is Kesha's Siamese cat. He was born sometime in January 2012. Kesha has called him her best friend. He was featured in the music video for Kesha's song, "Crazy Kids".
History
Kesha adopted Mr. Peep$ on July 2, 2012 in Russia outside a strip club when a Russian man handed him to her through his car window. On July 3, she posted a photo on Instagram asking fans what he should be named, with the options being, Vladmir Putin, Dave Grohl, Penguin, and Mr. Peep$. During the Warrior era, Kesha made several videos promoting the album and in those videos, Mr. Peep$ would appear at the end winking at the audience. Mr. Peep$ appeared in several episodes of Kesha: My Crazy Beautiful Life and the music video, "My Song 5", by HAIM with Kesha.
Gallery

"Click, click, snap!" To view the Mr. Peep$ gallery, click here.
References
Community content is available under
CC-BY-SA
unless otherwise noted.