"Tik Tok" (the working title for the track was "P Diddy", alternate titles are registered as "Tick Tock P Diddy", "Tick Tock", and "Zack Zack") is the debut single by Ke$ha. It serves as the second track and lead single on Ke$ha's debut album Animal.  
Background
"Tik Tok" was written by Ke$ha, alongside Dr. Luke and Benny Blanco and was co-produced by Luke and Blanco. Ke$ha said the inspiration behind the song came from coming home half-drunk and stumbling after a night out of partying. She would then write down a few words to a song, then the following morning she would wake up with the story waiting to be told. The opening line came from an experience where she woke up surrounded by "beautiful women", leading to her imagining P. Diddy being in a similar scenario.[1] She then proceeded to bring the song to her producer Dr. Luke and Benny Blanco and the song was written. Four hours later, Diddy called Luke and said that they should do a song together. Diddy came to the studio later that day to contribute his lines and the collaboration was completed.
| | | |
| --- | --- | --- |
| " | Rekording p diddy hollerrryo.... | " |
[2]
While Ke$ha was in the studio with Dr. Luke and Blanco, she took three takes to get the song correct as she jokingly "white-girl rapped" over the beat.[3] At one point in the song's production, she had wanted to re-write the verses of the song because she did not think that they were "funny or clever", feeling that they "kind of sucked." She elaborated, "I thought it was just another song, I thought it was just like all the other ones I'd written. I didn't even know if it was very good. I wanted to rewrite the verses, I didn't think it was funny or clever. I thought it kind of sucked. But everyone else liked it."[4] Ke$ha ultimately did not end up rewriting any of the song's lyrics. She further described the theme of the song in an interview, emphasizing that it embodied her own lifestyle.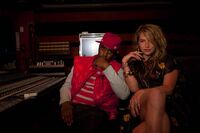 | | | |
| --- | --- | --- |
| " | We're [Ke$ha and her friends] all young and broke and it doesn't matter. We can find clothes on the side of the street and go out and look fantastic, and kill it. If we don't have a car that doesn't stop us, because we'll take the bus. If we can't afford drinks, we'll bring a bottle in our purse. It's just about not letting anything bring you down. | " |
[5]
A remix featuring Pitbull leaked online, with the song omitting the first verse in favor of a new rap verse by Pitbull. After he completes his verse, the song continues as normal starting from the first chorus.
Official versions
Cross-references
Music video
Music video
Information

Ke$ha - TiK ToK (Official Music Video)

Released
November 14, 2009
Length
3:34
Director
Syndrome
Producer
Filmed
2009
Location
Vevo views
+458,233,029
Background
The music video for "Tik Tok" was directed by Syndrome. It was shot in Ke$ha's old neighborhood and the car featured in the video belongs to her. Ke$ha explained the experience saying, "the video I'm excited about because I actually got to shoot it in my old neighborhood and the guy driving my gold car is a friend of mine". The video's party scene was shot in her friend's house, which they refer to as the "drunk tank". The singer said "the last party scene is in this house called the drunk tank, which is one of my friend's houses that we all go party at. So I like it cause its super-honest and genuine."[6]
Synopsis
Scene 1
The video starts with shots of Ke$ha sleeping in a bathtub, in a house that's not hers, and intercut with those of a party.
Scene 2
Shots of her making her way downstairs are intercut with those of her leaning against a yellow building. The family is stunned that a random girl is in their house and the mother drops a plate of pancakes on the floor. With a shrug, Ke$ha makes her way out of the house.
Scene 3
The family follows her out of the house only for her to pick up a bike lying on the sidewalk and riding it away. She drives for a few seconds before she sees a small group of children listening to a boombox. She trades them the bike for the boombox and makes her way to a building see in previous shots. She listens to music until she is interrupted by a guy who is flirting with her. Shortly after her turning him down, a man (portrayed by Simon Rex) in a car pulls up. While at first she appears disgusted by his appearance, she leaves the boombox and hops in the passenger side of the car and they leave..
Scene 4
They are then seen driving while Ke$ha flirts with him. They are shortly pulled over by cops. Ke$ha is seen being bent over the car and cuffed.
Scene 5
Scenes of the pair driving again with one side of the handcuffs still cuffed to Ke$ha while she dances are intercut with scenes of Ke$ha back at the yellow building.
Scene 6
Ke$ha is seen in a building dancing in an explosion of glitter.
Scene 7
They make their way to the same party shown at the beginning of the video. She dances with her friends while glitter is falling on everyone. She then sits on a couch with Rex and another man (portrayed by Lukasz Gottwald) while Rex hugs her.
Scene 8
Ke$ha is seen giggling in another bathtub covered in glitter before the video fades to black.
Lyrics
Wake up in the mornin' feelin' like P. Diddy (hey what up girl)
Grab my glasses I'm out the door I'm gonna hit the city (let's go)
Before I leave brush my teeth with a bottle of Jack
'Cause when I leave for the night I ain't comin' back

I'm talkin' pedicure on our toes, toes
Tryin' on all our clothes, clothes
Boys blowin' up our phones, phones
Drop-toppin' playin' our favorite CDs
Pullin' up to the parties
Tryin' get a little bit tipsy

Don't stop make it pop
DJ blow my speakers up
Tonight I'ma fight
'Til we see the sunlight
Tick tock on the clock
But the party don't stop oh no

Don't stop make it pop
DJ blow my speakers up
Tonight I'ma fight
'Til we see the sunlight
Tick tock on the clock
But the party don't stop oh no

Ain't got a care in the world but got plenty of beer
Ain't got no money in my pocket but I'm already here
And now the dudes are linin' up 'cause they hear we got swagger
But we kick 'em to the curb unless they look like Mick Jagger

I'm talkin' 'bout everybody gettin' crunk, crunk
Boys try to touch my junk, junk
Gonna smack him if he gettin' too drunk, drunk
Now now we goin' 'til they kick us out out
Or the police shut us down down
Police shut us down, down
Popo shut us down

Don't stop make it pop
DJ blow my speakers up
Tonight I'ma fight
'Til we see the sunlight
Tick tock on the clock
But the party don't stop oh no

Don't stop make it pop
DJ blow my speakers up
Tonight I'ma fight
'Til we see the sunlight
Tick tock on the clock
But the party don't stop oh no

(DJ) You build me up you break me down
My heart it pounds yeah you got me
With my hands up you got me now
You got that sound yeah you got me (DJ)
You build me up you break me down
My heart it pounds yeah you got me
With my hands up put your hands up put your hands up
Now the party don't start 'til I walk in

Don't stop make it pop
DJ blow my speakers up
Tonight I'ma fight
'Til we see the sunlight
Tick tock on the clock
But the party don't stop oh no
Oh whoa oh whoa

Don't stop make it pop
DJ blow my speakers up
Tonight I'ma fight
'Til we see the sunlight
Tick tock on the clock
But the party don't stop oh no
Ke$ha, Mr. 305
Off of my body, Daly

There's some freaks in the livin' room gettin' it on
And they ain't leavin till six in the mornin'
If you don't know where you're from and you
Don't know where your goin but I'm so lit
I don't know where I'm at, where I'm from;
Or where I'm goin
She drank a couple shots of that pat-rone
Now she wanna get my name tatted on
I took her to the tattoo shop
So she could get a tattoo of my name on her cha cha
Time is money I got money on my mind
Life is short I'm just tryin ta buy time

Tik tok baby life is a race just make sure you make a pitstop

Don't stop make it pop
DJ blow my speakers up
Tonight I'ma fight
'Til we see the sunlight
Tick tock on the clock
But the party don't stop oh no

Don't stop make it pop
DJ blow my speakers up
Tonight I'ma fight
'Til we see the sunlight
Tick tock on the clock
But the party don't stop oh no

Ain't got a care in the world but got plenty of beer
Ain't got no money in my pocket but I'm already here
And now the dudes are linin' up 'cause they hear we got swagger
But we kick 'em to the curb unless they look like Mick Jagger

I'm talkin' 'bout everybody gettin' crunk, crunk
Boys try to touch my junk, junk
Gonna smack him if he gettin' too drunk, drunk
Now now we goin' 'til they kick us out out
Or the police shut us down down
Police shut us down, down
Popo shut us down

Don't stop make it pop
DJ blow my speakers up
Tonight I'ma fight
'Til we see the sunlight
Tick tock on the clock
But the party don't stop oh no

Don't stop make it pop
DJ blow my speakers up
Tonight I'ma fight
'Til we see the sunlight
Tick tock on the clock
But the party don't stop oh no

(DJ) You build me up you break me down
My heart it pounds yeah you got me
With my hands up you got me now
You got that sound yeah you got me (DJ)
You build me up you break me down
My heart it pounds yeah you got me
With my hands up put your hands up put your hands up
Now the party don't start 'til I walk in

Don't stop make it pop
DJ blow my speakers up
Tonight I'ma fight
'Til we see the sunlight
Tick tock on the clock
But the party don't stop oh no
Oh whoa oh whoa

Don't stop make it pop
DJ blow my speakers up
Tonight I'ma fight
'Til we see the sunlight
Tick tock on the clock
But the party don't stop oh no
Trivia
Videos
Music
Live Performances
Extras
References